Green Deal Could Cover Cost of Solar Panels
Please note: The Department for Energy and Climate Change (DECC) has announced that they have pulled the funding for the Green Deal. More information about this announcement, which was made on 23 July 2015, can be found here.
According to Greg Barker, the UK's Minister of State for Climate Change, the Government's Green Deal may cover the cost of solar panels, meaning householders would become eligible for a Government-backed loan scheme.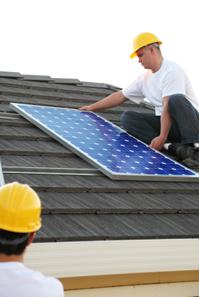 The potential inclusion of renewable energy such as solar power into the coalition's flagship "green deal" is somewhat of a surprising move, given that to date the development of the scheme has focused on energy efficiency measures, such as lagging lofts.
According to papers recently published by the Department of Energy and Climate Change (Decc), the 14 million householders expected to qualify for a complete energy-saving overhaul in the next 10 years, could be allowed to choose from over 20 different technologies, which won't be limited to just the likes of cavity wall insulation and draught proofing, but may also covering solar water heating and biomass boilers.
Under the scheme, which it is hoped will be rolled out from 2012, all 25 million homes in Britain will be assessed, with owners to be offered loans by high street companies for energy-saving measures. In theory, repayments will be offset for consumers by savings on their energy bills, and the debts will be attached to properties rather than to individuals.
"It will not be a loan. It will not count against people's credit rating. This is a revolution that will ricochet around the world," says Barker.
"This is the most ambitious energy-saving programme anywhere since the second world war. It will do for environmental efficiency what privatisation did for industrial efficiency. You will have a better property that is easier to heat. Your fuel bill should be less. This is about unleashing new technologies. We have got to do 14 million homes by the early 2020s and 25 million by 2030."
According to Barker, companies ranging from Asda and Sainsburys, to Marks and Spencer and John Lewis are set to offer the packages to consumers, with installation work to be done by certified assessors and contractors bound by law to work to meet agreed standards.
Although critics of the scheme believe that few people will be interested because the money borrowed is expected to be at expensive commercial rates of interest, Barker has hinted that there will be more incentives to come.