Solar excluded from Green Deal cash back
Please note: The Department for Energy and Climate Change (DECC) has announced that they have pulled the funding for the Green Deal.
It's been revealed that both solar photovoltaic panels and solar thermal hot water systems have been excluded from the Green Deal cash back scheme, which the Government has introduced to kick start the scheme and encourage early adopters.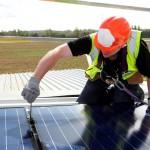 Homeowners and landlords are able to claim back up to a maximum of £1,000 by taking up a range of home improvements to upgrade their homes and transform them into more energy efficient abodes.
However solar PV panels and solar water heating or solar thermal as it's often referred to will not be eligible for the Green Deal £125 million cash back scheme. Solar panels already qualify for financial help through the Government's feed-in tariff (FiT) scheme, while solar water heating will benefit from the Renewable Heat Incentive when it's launched later this year, which is why the Government has chosen to exclude these two technologies.
The Government first made known its plans to introduced a cash back Green Deal incentive back in October. The scheme's early adopters will be able to take advantage of a pot of £125 million, which is available on a first-come-first-served basis.
Last week the Department of Energy and Climate Change issued a press release which revealed the cash back rates, which includes £650 for solid wall insulation, £250 for cavity wall insulation, £100 for loft insulation and £50 for draught proofing.
Homeowners keen to install solar panels must ensure their properties are well insulated. Any property that achieves an energy efficiency level below level D isn't eligible for the current feed-in tariff rate of 15.44p/kWh and will instead only be able to claim a lowly 9p/kWh. If a homeowner wants to achieve the highest FiT rate they will be able to implement home improvement measures as part of the Green Deal which will bring their homes up to the required standard.
The Green Deal cash back scheme officially went live on 15 January 2013.