DECC reveals RHI tariff rates for domestic scheme
It's been a long time coming but today, almost four years after it was first announced by the Government, the Department of Energy and Climate Change (DECC) has published details of the tariff levels for domestic customers as part of the Renewable Heat Incentive scheme.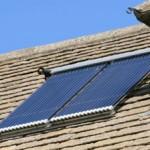 Domestic households who have had renewable heating products, including solar thermal panels, installed since 15 July 2009 will be eligible for the scheme. DECC's official press release has also revealed that under the second phase of the Renewable Heat Incentive, RHI for short, self builders as well as social and private landlords will also be eligible.
After consultation with the Renewable Energy Consumer Code and the Renewable Energy Association the tariff levels have been confirmed, with owners of both evacuated tube and flate plate solar water heating systems eligible for a minimum of 19.2p/kWh of financial support. The tariff may be higher, depending on an assessment of the marginal cost of renewable energy. We'll know in the autumn whether the tariff rate will rise.
The remaining tariff levels, which will be paid quarterly for seven years, are as follows:
Ground source heat pumps (GSHP) – 18.8p/kWh
Air-to-water air source heat pumps (ASHP) – 7.3p/kWh
Biomass boilers and biomass pellet stoves with back boilers – 12.2p/kWh
In a move that mirrors the recently revised Renewable Heat Premium Payments (RHPP), to be eligible for RHI payments applicants will need to have a Green Deal assessment of their property carried out. DECC has also stipulated that where appropriate homes will be required to have cavity wall insulation and their lofts insulated to at least 250mm.
"Investing for the long term in new renewable heat technologies will mean cleaner energy and cheaper bills. So this package of measures is a big step forward in our drive to get innovative renewable heating kit in our homes," explained Greg Barker, energy and climate change minister.
Barker added the announcement should give householders a clear incentive to invest in renewable heating technologies.
"We are also sending a clear signal to industry that the coalition is 110% committed to boosting and sustaining growth in this sector."
After so much prolonged uncertainty, it's welcome news for the renewable heating industry and consumers alike, and should help drive forward uptake of installations of green heating technologies.
Tariffs will be available from next Spring. In the meantime, financial assistance for anyone installing the technology is available through the RHPP up until March 2014 when the grant scheme will close its doors.
Reacting to the the news, Stuart Elmes, Chair of the Solar Trade Association's solar thermal working group, said:
"This is a massive boost for the solar thermal market. The value of this incentive is on a whole new level, there's nothing like it anywhere in the world. From now on people can install solar heating with confidence that their system will be able to join the RHI scheme, and knowing what their payments will be worth."
According to the STA homes with solar thermal panels will receive between £1,150 and £3,250. The amount will depend on how many people there are in the household.