Furniture Giant Builds On Its Renewables Portfolio
Ikea, the world's biggest home-furnishings retailer is continuing to build on its renewables portfolio by investing in solar and wind power.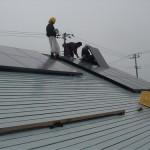 Its latest investment is a 12.3-megawatt wind farm in Huntly, northeast Scotland, which was purchased from Good Energies Capital Inc.
As part of its goal to get all of its energy from renewable sources, the company also has plans to install around 39,000 solar PV panels on 10 of its UK stores. Totaling 2.1 megawatts, the solar panels – which will cost close to £4 million – will on average provide around 5% of each individual shop's power.
With 67 wind turbines under its belt, which provide 127 megawatts of capacity, the Ikea Group is looking to add more British wind farms to its growing portfolio, to sit alongside the ones it already owns in France, Denmark and Germany.
Ikea wants to reduce its exposure to fluctuating energy prices, from which it currently loses around $1.7 billion annually. and sees renewable energy as the way forward. According to IKEA´s Chief Sustainability Officer Steve Howard, the furniture giant sees renewable energy as the way forward, with the company likely to hit 70 to 80% renewable by 2015.
"The principle strategy is to match the direct energy consumption of the business with electricity production from renewable assets," said Mr Howard.
"We can certainly see a point in time where renewables are likely to be the most cost-effective form of energy generation."