Free Solar Company Secures £20m Worth of Backing
One of the UK's largest domestic solar panel installers has reportedly agreed a financial deal worth £20 million.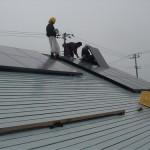 A Shade Greener – a Yorkshire-based company that specialises in installing free solar panels –  has secured a substantial financing deal with GE Capital. The backing will enable the firm to expand its rapidly-growing portfolio, having completed almost 4,000 solar panel installations across the UK to date.
Operating in and around Yorkshire, Lincolnshire, Nottinghamshire and Derbyshire, A Shade Greener offers to fit free solar panels, which enables the company to reap the benefits of financial incentives provided by the Government's feed-in tariffs (Fits) scheme, which currently pays out 43.3p for every kilowatt hour of electricity generated.
Commonly known as "rent-a-roof schemes", the solar panel installer will fit the technology for free in return for renting a customer's roof space. Although the homeowner will benefit from reduced energy bills, they will not be able to claim any of the financial incentives provided by the feed-in tariff.
According to A Shade Greener's founder and chief executive, Stewart Davies, the deal will see the creation of 60 new jobs. The firm already employs around 160 staff, some of whom are former soldiers who served in Afghanistan and Iraq.
For more information about free solar panels, check out our top 10 rent-a-roof scheme facts.