FiT Cuts Not All Doom and Gloom Says Sunny Britain
IMPORTANT notice about this article: Please note that the Feed-in Tariff (FiT) scheme closed to new applications on March 31st 2019.
Although the majority of the UK solar industry is up in arms over the Government's proposals to slash solar subsidies, a small proportion think it could be good for business.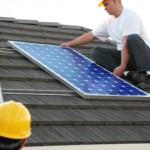 Take Barak Goldstein, for example. According to the Chief Executive Officer of Sunny Britain, reducing the feed-in tariff (Fit) for solar PV installations could actually boost his business and enhance the industry's reputation.
"Although it's disappointing for our customers that the Government has decided to reduce the amount that they'll pay out to consumers who install and use solar panels, we see this as a huge opportunity for our business," he said.
He did add, however, that while Sunny Britain wouldn't be adversely effected by the changes, slashing solar would have a huge impact on the solar market and unfortunately many business models were bound to suffer. Not least solar companies whose main area of business is free solar, as the scheme would be deemed less attractive.
Speaking to Solar Power Portal, Mr Goldstein said he believed the cuts would not only help to eradicate the cowboy-type of installer that has been blighting the industry since the feed-in tariff was introduced last year, but he also hoped it would help to remove a number of companies who charge "way-above market rates for their solar panels."
"For too long solar power has been mis-sold by cowboy companies, and this shake-up should hopefully make for a much more streamlined industry," he added.
Sunny Britain is a different kind of solar company, because it gives consumers the chance to save up to 50% on installation costs of a solar PV system by encouraging local residents to group together to purchase the equipment. According to the company, consumers will still be able to achieve returns in the region of 10-12% year-on-year, despite the cuts that are set to be implemented.