High Court Victory For Solar As FiT Cuts Ruled Illegal
IMPORTANT notice about this article: Please note that the Feed-in Tariff (FiT) scheme closed to new applications on March 31st 2019.
As we reported on Wednesday, a High Court judge has ruled in favour of a solar industry challenge, agreeing that the Government acted illegally by rushing through cuts to the feed-in tariff (FiT) scheme.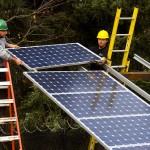 The UK solar industry was left reeling when the Department of Energy and Climate Change (DECC) confirmed plans to slash solar subsidies by more than half. The ruling by Mr Justice Mitting has been welcomed by the solar industry, who regard the decision as a victory for green energy.
Two heavyweights in the industry – Solarcentury and Homesun – teamed up with environmental group Friends of the Earth, to challenge the Government's handling over proposals to slash solar subsidies from the current rate of 43.3p per kilowatt hour of electricity generated, to just 21p. The new rate would come in to play from 12 December, and the solar industry has been working around the clock for the past six weeks to try and beat the deadline.
The challenge has ruled that the 12 December deadline – a mere two weeks before the consultation period into FiTs ends – is not only unlawful, but that it essentially makes a mockery out of the whole consultation process. By upholding the challenge, the High Court has ruled that anyone who registers for FiTs between now and the end of March 2012 is legally entitled to the current 43.3p rate for the full 25 years.
However, the Government has pledged to appeal the decision as soon as possible, and if their appeal is successful, the December deadline could be reinstated. That would mean anyone who registered after 12 December would be eligible for the higher rate until 31 March, before dropping down to the reduced rate.
Commenting on the ruling, Daniel Green, chief executive of Homesun said: "There are so many winners who will benefit from this decision. To have an 'effective date' in the middle of a consultation must never happen again because it makes a mockery of the very essence of a consultation. By finding this policy illegal, the Judicial Review has stopped a dangerous precedent being set."
While the court ruling is a positive step forward, uncertainty continues to cloud the solar PV industry, with DECC determined to stick to its guns, arguing that the cuts are necessary to ensure the industry's survival.
The battle may have been won, but the war between the solar industry and the Government still rages on.