FiT Cut Lifeline For Solar on the Cards
The solar industry is today breathing a collective sigh of relief, as recent speculation regarding proposed dramatic cuts to feed-in tariff (Fit) rates will not be as drastic as rumours would have us believe.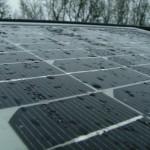 Last week, a number of respected sources hinted that solar systems under 50kW faced cuts that had the potential to essentially put an end to the solar boom currently sweeping the UK.
However, according to Solar Power Portal, Minister for Energy and Climate Change Greg Barker will today address the issue with attendees at this year's Solar Power UK conference, quashing rumours of such dramatic reductions to residential tariffs.
The rumours doing the rounds speculated that the feed-in tariff levels would be slashed from 43.3p to just 9p for every kilowatt hour generated. But in the run up to Barker's keynote speech this afternoon, reports indicate that cuts are likely to be in the region of a far more realistic 20p.
All will be revealed at 12.30 this afternoon, when the Minister addresses delegates at Birmingham's Solar Power UK conference.