9p Solar FITS Cuts More Fiction Than Fact
IMPORTANT notice about this article: Please note that the Feed-in Tariff (FiT) scheme closed to new applications on March 31st 2019.
The mainstream media is well known for using scaremongering as a ploy to "sell" news, and this week rumoured changes to feed-in tariff (Fit) rates for solar have fallen victim to such tactics.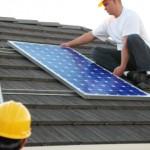 According to Solar Power Portal, rumours currently doing the rounds of feed-in tariff rates being dramatically slashed to just 9p are totally unfounded, and are doing nothing to calm an already unsettled industry.
This week, numerous sources have hinted that when the results of the Comprehensive Feed-in Tariff Review are published solar tariff rates for all systems under 50kW will be cut to 9p.
Earlier this week, the Financial Times – referring to 'industry sources' – reported that tariff levels could "fall from the current level of up to 43p per kilowatt hour generated, to as little as 9p per kWh… if the Government follows past precedent, any change would not affect homeowners with existing solar panels".
When approached by Solar Power Portal, the Department of Energy and Climate Change (DECC), were quick to point out that the Comprehensive Review will take into consideration all tariffs in the scheme. Until the report is published, tariffs will remain unchanged until April 2012.
"There has been no announcement about the review so any rumours about its content are just that, rumours and speculation," said a DECC spokesperson.