Fast Turnaround For Nottinghamshire Solar Plant
It was a race against time to beat their 31 July deadline, but a solar power plant in Nottinghamshire has been built in just six weeks.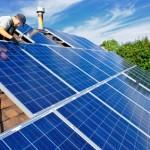 Built in conjunction with Lark Energy, Conergy claims the 5 MW plant at Hawton is the largest in the UK and took just six weeks to complete after receiving planning permission. Due to the recent review of the Government's feed-in tariff (Fit) scheme and its subsequent cuts to large-scale installations, Conergy were working against the clock to ensure the installation was completed to deadline.
The installation of 21,600 solar panels covers an area of 14.6 hectares. Over the course of 12 months the solar power plant will produce 4860 MWh of electricity, which is enough to supply up to 1,500 homes. The solar farm has been built on fields which have been farmed by Roger Pykett's family for three generations.
"It's awesome really to change a field from grazing horses and a bit of arable into a power station in six weeks," commented Mr Pykett.
Conergy conducted a considerable amount of research amongst local residents prior to the installation. Research showed that 100% of the respondents to their survey generally supported the idea of solar energy as a clean, renewable energy solution. At an open event back in March, 92% of those in attendance claimed to support the solar park.
"The project was clearly a race against time to meet the deadline of 31 July 2011 - but we made it," said Robert Goss, Head of Conergy UK.
For more information about the project, visit www.bbc.co.uk/news/uk-england-nottinghamshire-14231678