Farmer Looks to Solar Energy for Retirement Nest Egg
Forget savings or a pension scheme. A farmer and self-confessed "green anorak" is hoping to accumulate a nice little retirement nest egg by investing his money in renewable energy.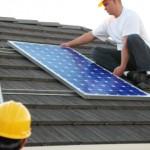 Will Pierce, a 55-year-old, who lives on a farm near Mold in North Wales, has installed 18 Solar PV panels to his home. Thanks to the Government's feed-in-tariff (Fit) scheme, Mr Pierce will now be able to earn cash back over the course of the next 25 years, while the panels generate free electricity.
Mr Pierce opted to invest in the solar panels because he believes the renewable energy provides a much greater long term return on investment, compared to that of any bank scheme.
"From a financial perspective I am 55 this year and I am hoping to retire in 10 or so years," said Mr Pierce.
" I wanted a much better ROI for my money than letting it just sit in a bank, and with the feed-in tariff incentive scheme it made sense to install solar PV," he added.
Mr Pierce has estimated that it will take him around eight to ten years to recoup his capital outlay.
The solar panels were fitted by Stiebel Eltron UK.