BBC's Dragons' Den Says 'Yes' to Solar
The new series of the BBC's popular TV show Dragons' Den went to air last night, with an entrepreneur from Yorkshire successfully leaving the Den after securing financial investment for his solar panel business.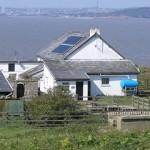 The ninth season of the show returned to BBC2 and saw four of the five Dragons do battle over a pitch from Chris Hopkins. The owner of Ploughcroft Solar gave his best sales speech to convince the panel as to the benefits of solar energy, and the financial rewards that can be reaped from the Government's feed-in-tariff (Fit) scheme.
Seeking £100,000 for a 10% equity share in his company, the entrepreneur received offers from all but one of the Dragons. Whilst Peter Jones remained unconvinced that enough homeowners would be able to invest the £15,000 needed to install the solar panels – despite the annual financial rewards – it was left to the remaining Dragons, Duncan Bannatyne, Theo Paphitis, Deborah Meadon and Hilary Devey to fight over a stake in the business.
In the end, Deborah Meadon and Theo Paphitis managed to secure the deal by teaming up to offer Mr Hopkins £100,000 in return for a 12.5% stake each.
Mr Hopkins established his company 13 years ago, and has plans to open seven new branches of Ploughcroft Solar across the UK. He has already joined forces with high street electrical retailer Plumb, to provide solar panels to households across Yorkshire and Humberside.
For more information, and to view the episode, visit www.bbc.co.uk/iplayer