Guy Ritchie Going Green
It's not like he's short of a bob or two, but it seems film director Guy Ritchie is looking to invest in the power of the sun by installing solar panels at his British country mansion.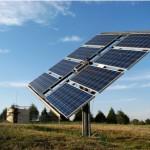 The acclaimed film director and Madonna's ex husband has apparently expressed an interest in installing 200 solar panels in a field near his £9 million 1,132-acre home in Wiltshire.
The solar panels will help the multi-millionaire to become entirely energy self-sufficient, meeting all the energy requirements at his country estate mansion – which he shared with his former superstar wife.
Aside from cutting his substantial energy bills, the move to renewable energy will also help Ritchie to do his bit for the planet by reducing his carbon emissions.
It seems the film director has a general interest in green issues and making his country mansion more environmentally-friendly. Back in 2009, green fingered Ritchie was granted permission to build three greenhouses which would use rainwater and heat from a wood-chip boiler to grow fruit and veg.
However, according to local councilor Gordon Marks, no plans for the solar panels have been officially submitted by Ritchie.