Pig farmer goes green with solar panels
A pig farmer in Leicestershire has turned to green energy as a means of powering his pig breeding facilities. The installation of a solar PV system will not only help reduce energy bills, but it will generate an additional income too.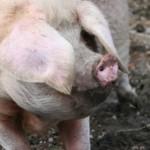 A 320 acre farm which is home to around 200 breeding sows, Lodge Farm is one of the largest pig farms in Leicestershire. Every year, the on site pig unit grinds and mills on average 1,000 tonnes of pig feed. Owner Philip Gosling is just one of many farmers who have been turning to renewable energy as a means of increasing profits and cutting energy costs by producing their own electricity with a solar PV installation.
For farmers who install small-scale renewable energy schemes, the Government has recently made such installations exempt from planning regulations. Renewable energy, and particularly solar PV systems, are becoming increasing popular in agricultural circles, with more and more farmers recognising the many benefits they offer.
"We are delighted with the work undertaken by Eco2Solar at our farm. They fitted our solar panels very quickly and efficiently in one single installation without causing any lengthy disruption to our farming activities," commented Philip Gosling.
"By utilising on-farm renewables, we are able to secure a valuable additional revenue steam which is vital for the future development of our facilities," he added.
Eco2Solar, based in Kidderminster designed a 39.6kWp solar system and the renewable energy company has estimated that more than 34,153kWh of electricity will be generated by the solar panels every year and the farm will use all of the electricity produced. And thanks to the feed-in tariff (FiTs) Lodge Farm will earn a tax free income of at least£11,000 annually.
The solar company's managing director, Paul Hutchens, said they were happy to support Lodge Farm to "diversify its revenue streams and save tonnes of carbon emissions".
"There are great opportunities for farmers to increase profits and produce their own electricity using solar panels."