Enphase Solar Battery Cost, Specs and Reviews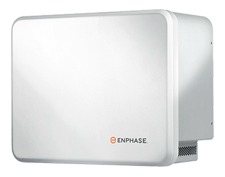 The Enphase Home Energy Solution covers every stage in your solar power, apart from providing the sunlight of course!
Enphase are relative newcomers to the solar industry but have already made their mark in a big way. The company was founded in 2006 in California and now operates in 21 countries. Their aim? To make 'solar simple and energy smart'.
If you'd like to speak to a solar installer in your area who can provide tailored advice and a free installation quote for a solar battery, complete our enquiry form now and we'll put you in touch with up to 4 MCS certified (or equivalent) accredited companies today.
What is the Enphase Home Energy Solution?
Enphase have designed their energy storage solution to work in partnership with some of the energy and heating industry's leading manufacturers. For example, their microinverters are found in solar panels by both LG Chem and Jinko Solar and their software integrates with smart heating technology leader, Nest.
The microinverters in the solar panels absorb and convert the sun's energy for use in your home and any surplus is picked up and stored by the Enphase AC Battery for use when you need it most.
The Enphase Envoy hub and Enlighten app enable you to track and monitor as they communicate back and forth, giving you complete and real-time insight into your home's energy performance.
---
 
Get Free Solar Battery Quotes:        Get quotes and compare prices.
 
---
The Enphase Solar Battery Product Range
Enphase AC Inverters: While Enphase don't produce their own solar panels, they have partnered with LG Chem and Jinko Solar to include their Enphase IQ 6+ Microinverter in their panels. The Microinverter is the which is the crucial technology which converts the sun's energy from DC to AC so it can power your appliances. Enphase inverters include a 25 year warranty and, because they are pre-fitted into the solar panels, ensure a quick and easy installation.
Enphase AC Battery: The Enphase AC battery is one of the smallest in terms of capacity on the market. Each unit has a capacity of just 1.2kWh but the benefit of this is that you can buy as many or as few as needed to suit your home, up to maximum of 14 units per installation. This means you can avoid having spend money on purchasing and operating a battery with a higher capacity than necessary. The modular setup also means you can add to the system as your family expands and energy demand increases. The battery uses lithium iron phosphate chemistry for long cycle life and is compatible with all existing solar energy systems.
Enphase AC Battery
Dimensions (WxHXD):
390 x 325 x 220mm
Weight:
25kg
Capacity:
1.2kWh
Duration of Discharge:
4.3hrs
Warranty:
10 years or 7,300 cycles
Enphase Envoy
The Enphase Envoy acts as the communication hub between the microinverters in your solar panels and your energy management software, Enlighten. This means you can track and monitor the your energy usage via an internet connected device. It will integrate with smart heating technology like Nest.
The Enphase Enlighten app enables you to monitor how much energy is currently stored in the battery and to keep an eye on potential issue with the system.
---
 
Get Free Solar Battery Quotes:        Get quotes and compare prices.
 
---
Why consider Enphase?
Integrated and complete system. Enphase are the only company to offer you solar power, storage and monitoring software in one package. It's been designed to work together and give you complete control over your system and can integrate with smart heating technology like Nest.
Energy insights and control. The Enlighten app enables you to track and monitor your energy in real time so you can make smarter choices about your energy use and see where you could be making real savings on your energy bills.
Lightweight and flexible battery solution. The Enphase AC battery is one of the lightest batteries on the market, can be purchased in quantities of up to 14 units and will adapt to any existing system you already have in place. This means you can purchase as many or as few units as your home needs and avoid wasting money on unnecessary storage. Also, you can expand the system's storage capacity in stages if needed in the future.
Reliable and safe. The Enphase microinverters come with a 25 year warranty and are subjected to extensive tests including a variety of harsh climate conditions. The Enphase AC Battery is the first residential energy storage systems to receive the UL 9540 system certification.
Interested in Enphase solar energy for your home?
Whether it's an Enphase battery you're interested in or you've another manufacturer in mind the best way to save money on the installation is to compare quotes. You can complete our quick and simple enquiry form today and we'll find you free quotes from up to 4 accredited solar installers in your area.