SOLiC 200 Intelligent Immersion Switch
If you're looking for a way to get the most out of the green energy generated from your solar panels then you might want to take a look at the SOLiC 200 intelligent immersion switch from Earthwise.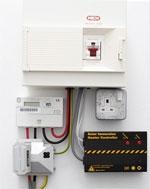 The SOLiC 200 works by converting the energy generated by your home's solar PV panels into free hot water. Rather than feeding surplus electricity back into the national grid, once installed this little black box will automatically divert surplus electricity generated by the solar system into your existing hot water tank.
If utilised with a 4kW system the unit, which comes with a 10 year guarantee and can be installed by any qualified electrician, would be able to save you up to £265 a year.
The SOLiC 200 will work with most domestic central heating boilers, as long as the system heats the hot water by burning gas, oil or even wood pellets. If your hot water isn't stored in a tank, for example if you have a combi boiler, then this type of unit will be of no use to you.
Key features of the SOLiC 200 include:
A 25 year plus life span
A standard 10 year replacement guarantee
Virtually maintenance free
Reduces CO2 emissions
Works with any size array
Can save you up to £265 on annual energy bills
Simple to use and easy to install
Recognised as an energy saving product so qualifies for a lower 5% VAT rate
Based in Oxfordshire, Earthwise has been distributing innovative renewable energy products since July 2012.