Dorset solar farm could be one of the biggest in the UK
Solar Power Generation Ltd has applied to build a £115 million solar farm at Parley, near Christchurch, Dorset.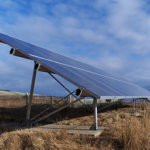 The new solar power project depends on multi-million pound funding and if approved will cover 118 acres (48 hectares) of land currently owned by Eco Sustainable Solutions and at present used for turf cultivation. The site is screened by hedgerows and woodland and is equivalent to 65 football pitches. The solar farm will form part of a larger renewable energy park and the farm's solar PV panels will generate an expected 20MW of low carbon electricity to serve around 5,000 homes.
According to Trelawney Dampney, Eco Sustainable Solutions managing director, the presentation of the plans for the renewable energy park in September had been a very positive exercise.
"Parley Solar Farm will be one of the biggest in the UK, offering a low carbon, renewable energy source" he commented. "Climate change is the biggest issue facing the world at the current time. The establishment of Parley Solar Farm will represent a small step towards meeting the UK government's commitment to reduce carbon emissions by 20 per cent by 2020."
The solar panels will be ground mounted on racks at an angle of 30 degrees with a height of between 0.8 metres (2ft 7ins) and 2.9 metres (9 ft 6ins). This will enable the land to remain in agricultural use as grazing land. If the plans are approved it will take around six months to actually build the farm which, when commissioned, will remain in operation for around 25 years.
Solar Power Generation Ltd has built a number of large-scale solar PV parks across the UK and the renewable energy park of which Parley Solar Farm will be a part, will also include an anaerobic digestion (AD) plant and biomass facilities. Another solar farm built by the company, at Chilton Cantelo, near Yeovil, uses a framing system manufactured by British Renewables and is screened from nearby roads.