43,000 panel solar farm planned for old quarry site
A solar farm consisting of 43,000 solar panels is being planned for newly restored pasture land at Newbold Quarry near Burton-upon-Trent, Staffordshire.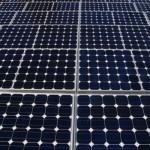 A two-phase programme of development is being planned by Aggregate Industries in order to deliver an initial 2.2MW installation consisting of 8,800 solar panels. The proposal will be delivered to Staffordshire County Council this month with a second application for phase two early next year. This second phase will be an 8.3MW extension consisting of 34,600 panels.
Aggregate Industries wants to reduce its carbon emissions and the plan replaces a previous scheme to build a wind turbine on the site. This had attracted opposition from the Campaign to Protect Rural England (CPRE) and so the company opted for a solar farm instead.
The farm, when complete, would have a maximum installed capacity of 15MW and the plans are being progressed by the company's renewable energy development partner, AGRenewables Ltd. Electricity from the site will be fed directly into the on-site grid infrastructure with any power not used 'bought back' under a power purchase agreement (PPA) in order to help the company reduce its carbon emissions throughout the UK. The site on which the solar farm is to be built would still be able to be managed as a wild flower meadow throughout the life of the farm.
"As a company we are committed to sustainable construction and the solar farm at Newbold will help our company reduce the carbon footprint of our operations" said Tim Claxton, Aggregate Industries' senior estates surveyor at Newbold Quarry. "Although we looked at the feasibility of siting a wind turbine at Newbold, it became clear to us that we had the space required to progress a solar application which had the capacity to generate more energy at the site. In addition, the areas we have chosen to develop are well screened, will have no impact on quarrying operations at the site and no impact on our approved restoration plans."