Domestic Renewable Heat Incentive for solar thermal now open
Good news for owners of solar thermal systems. With the launch of the domestic Renewable Heat Incentive this month, you can now get paid for generating your own hot water.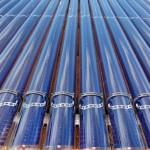 The Renewable Heat Incentive, also known as the RHI, got its soft launch on Wednesday 9th April 2014. After waiting for over four and a half years, householders can finally reap the financial benefits of the Government scheme, which comes almost 3 years after the first phase of the scheme was launched for the commercial sector back in 2011.
Adopters of green heat such as solar thermal systems (evacuated tube and flat plate collectors only) will get paid for the amount of heat their system produces. Tariff payments have been set at levels designed to bridge the financial gap which currently exists between the cost of renewable heating technologies, like solar thermal, and conventional heating systems.
Solar thermal systems generate 19.2p for every kilowatt hour of energy produced. Systems will need to have been installed on or after 15th July 2009 and meet strict criteria including MCS accreditation (both for the installer and the product). Householders will also need to get a Green Deal property assessment and make sure homes have their cavity walls insulated (if appropriate) and lofts are insulated to a minimum of 250mm.
Stuart Elmes, chair of the Solar Trade Association said: "Solar heating is popular with householders and quick to install, integrating easily with existing heating systems.
"We calculate that the returns from solar water heating are similar to those from solar power when you take into account the high price inflation for gas and heating oil."