Delay deep cuts to solar DECC is urged
New figures have revealed the number of homes and businesses installing solar PV has crashed and in response the government is being asked to delay a further planned round of deep cuts to Feed-in Tariffs (FiTS) following the cuts made on 1st April.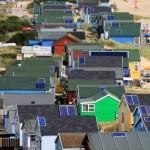 The figures show that solar firms installed a maximum of 2 MW each week since the beginning of April representing a steep decline in the amount of PV being installed from the 4.8 MW installed during the same period last year. The figures for this month are also the lowest since January 2011and industry executives have blamed the fall in demand on the cuts made to tariffs for small-scale PV.
There is also a widespread belief that the cuts have effectively created a 'boom-and-bust' economy within the solar industry in which customers rush to install solar before the next round of cuts and then promptly scale back installations after cuts have been implemented.
Prior to the April cuts, 8,911 installations were carried out compared to just 713 completed during the first week of April with 580 being registered last week. Solar Century's Jeremy Leggett claimed recently that solar firms were reporting a 90 percent decline in trade since last year.
"The heat's totally gone out of the market" said Leggett. "It's not just about the feed-in tariff, but the government has succeeded in confusing people and making them lose interest in solar power. They've done a great job in stuffing the embryonic industry."
There has been a lot of emphasis within the industry on trying to show to potential clients that PV is still worthwhile despite the government cuts and that homes and businesses can still generate attractive rates of return. Nevertheless there is widespread suspicion that firms are struggling to communicate this message effectively in the face of months of negative headlines and sudden changes to tariffs.
Leggett suggested that the government should draw up a road map to make it clear how the industry can help to achieve the stated goal of 22 GW of solar capacity by 2020.
"We could help them draw up a roadmap" he said. "Surely they must at least now be minded to have a rethink of their policies, The nuclear ship is going down in the UK and they must have realised that the next question is about where the clean energy is going to come from. Or are they going to listen to the new carbon industries who think we can "frack" our way to energy independence?"
A spokesperson from DECC has indicated that the department is certainly open to the idea of a roadmap. She also indicated that the downturn was expected and therefore not a real concern.
"There was always likely to be a lull in installation activity after 1 April as the industry adjusts to the changes to the scheme, including the energy-efficiency requirement and multi-installation tariff" she said. "Our plans to improve the FITs scheme will see almost two-and-a-half-times more installations than originally projected by 2015, which is good news for the sustainable growth of the industry."