DECC to Review FiT Cuts Fiasco
The Department of Energy and Climate Change (DECC) has announced plans for an internal investigation into the feed-in tariff fiasco.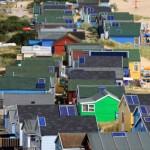 Energy minister Greg Barker has confirmed that an inquiry has been launched in an attempt to "learn lessons for the future."
DECC has been heavily criticised for the way it has handled plans to cut the feed-in tariff (FiT) scheme for solar PV installations. Consequently changes are set to be implemented to the scheme in an effort to achieve more transparency and consistency in the market. Plans to reform the scheme and the way it is administered have been announced today. Modifications – subject to Parliamentary approval set out in the Energy Act 2008 – will come into effect from 1 April 2012 for new solar PV installations. Essentially, the key changes are:
New solar PV installations

up to and including 4kW installed on or after 3 March 2012 will be eligible for the 21p feed-in tariff. The new rate will come into effect from 1 April.

The package of changes also sets down proposals to introduce a system of automatic cuts which are designed to make sure the tariff stays in-line with falling costs of solar PV systems. Depending on rates of installation, it would see systems of less than 4kW cut to between 16.5p and 13.6p per kWh of electricity generated in July, with further cuts of between 15.7p and 12.9p in October.

Energy efficiency criteria will apply if installations are to achieve the full rate of the feed-in tariff.

The energy performance certificate level has been dropped from a C to a D. Generators not achieving this standard will only be eligible for 9p per kWh.
Although ministers continue to defend the need to slash solar subsidies, given that the price of panels is falling, DECC's handling of the solar cuts – first announced last October – has been ruled to be unlawful by the High Court. Industry has hit back at the proposals to rush through the cuts, claiming it would have a disastrous impact on the UK solar industry.
"Of course DECC should launch an internal investigation into the Feed-in tariff shambles but they shouldn't have put the sector in this position in the first place," commented Solarcentury chairman, Jeremy Leggett.
Solarcentury was one of three companies who banded together to take the Government to court over its handling of the proposed FiTS cuts.
To read more about how DECC plans to implement changes to the solar PV FiT scheme visit www.decc.co.uk