DECC offers first glimpse of RHI rates for domestic installations
The Department of Energy and Climate Change yesterday published details of its proposed tariff rates for renewable heat technologies under the domestic side of the Renewable Heat Incentive (RHI) scheme.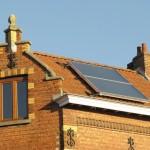 The domestic RHI is designed to encourage homeowners to install green heating technologies including solar thermal panels, heat pumps and biomass boilers. The initial proposals as set out under the consultation will see the tariff work in a similar way to the solar feed-in tariffs (FiTs), with solar thermal water heating installations set to receive a rate of 17.3p/kWh, which will be paid out over a seven year period.
Just like solar FiTs it's likely that the domestic RHI scheme will also incorporate a budget management system where degression would occur if and when certain trigger points are met. DECC would want to operate such a system to not only protect the scheme's budget but to ensure it is able to keep the scheme running for the long term.
The Government initially announced its plans to introduce the green heating scheme back in 2009 but it is only now that DECC has offered industry and consumers a first glimpse of the tariff levels. As it stands, proposed tariff rates for eligible technologies are:
Solar hot water – 17.3p/kWh
Air source heat pumps – 6.9-11.5p/kWh
Ground source heat pumps – 12.5-17.3p/kWh
Biomass boiler – 5.2-8.7p/kWh
However, DECC has made it clear that the tariff rates are subject to change following the consultation period which ends on 7 December 2012. A response to the consultation will then be published in January 2013. In the meantime DECC will continue to refine, update and verify all their information over the autumn, which will be collated from various sources including data from the Renewable Heat Premium Payment scheme – the forerunner to the RHI – and the current consultation, amongst others.
"We need to revolutionise the way we heat our homes and businesses and move away from expensive fossil fuels, not only to cut carbon but to help meet our renewables targets and save money on bills. Our proposals aim to encourage even more uptake of clean green heating in industry and in our businesses," said Climate Change Minister Greg Barker.
Following DECC's announcement yesterday, the solar industry has said it welcomes the initial proposals.
"The domestic RHI consultation offers reassurance that DECC has listened to what we have to say about the massive potential of solar heating to reduce bills and meet the UK's environmental targets. We feel optimistic about finding constructive solutions with DECC going forwards," commented Solar Trade Association CEO Paul Barwell.
"The tariff level proposed for solar thermal will concern many of our members, but following sustained lobbying from the STA, the door has been left open for flexibility on this support level. The STA will continue to press DECC to reflect the unique benefits of solar thermal in the final support level decision."
Strict energy efficiency criteria will need to be met and consumers will need to undertake a Green Deal assessment which determines whether they qualify for payments. DECC estimates that the RHI -which is to be administered by Ofgem – will create an extra 380,000 installations by 2020.
You can read the Government's press release in full by visiting DECC's website.