Countryfile Investigation Highlights UK's Lack of Commitment to Solar Energy
Are our European neighbours more willing to embrace solar energy than we are in the UK? That's the question posed by the popular BBC One television show, Countryfile.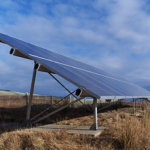 Investigating the benefits of solar energy, and how the recent cuts by the Government to the feed-in-tariff (Fit) scheme could have a negative influence on the UK's future solar energy plans, journalist and television presenter John Craven visited Cornwall, a county which has been experiencing something of a solar gold rush.
With no less than 20 successful planning applications in place for solar farms – more than any other county in the UK – the programme's investigation highlighted how the cut backs to the feed-in-tariffs could drastically affect Cornwall's ambitious solar energy plans.
Investment in large scale solar parks in this country has recently been dealt a big blow thanks to the soon-to-be-implemented cut in subsidies, and whilst many potential entrepreneurs have been put off from investing in solar energy as a result, Cornwall Council has also seen its plans to build a solar farm big enough to power Newquay Airport potentially thwarted.
From 1 August, feed-in tariff payments for solar installations of more than 50kW will be lowered. It's a move designed to open up more of the funding pot for domestic installations, but for Cornwall Council, despite having already invested a quarter of a million pounds into the project, it could be money down the drain as the 5MW solar park may never take off.
In the wake of the recent Government cuts, while the UK continues to struggle to embrace the benefits of solar energy, it's a different story over in neighbouring Germany; a country which has 70 times more households fitted with solar panels, compared to households in the UK.
In Germany – a country that has similar solar conditions to the UK – the will and incentive to invest in green energy is obvious. A single solar park in Germany generates more power than all the solar panels in the whole of the UK put together, and with more than 300 solar parks and feed-in tariff schemes that have been in place for more than twenty years, their commitment to renewable energy generation far outshines the UK's.
If the Countryfile investigation is anything to go by, it seems people in other countries are still far more open to the idea of generating electricity from renewable sources than people in the UK.
To check out the programme, go to www.bbc.co.uk/programmes/b0125r7t