Public support for solar farms fading says expert
As more large-scale solar projects are constructed, public support for solar farms will eventually run out an expert in the West Country has predicted. Solar PV applications have increased by 600% in the South West over the past year and the projects appear to be growing larger.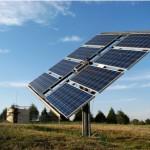 Some of these applications concern projects as large as 224 acres, which is nearly six times as big as London's Olympic Stadium island. Companies appear to be competing in a 'solar dash' in Cornwall in order to secure the best sites for solar PV panels given that the county has some of the highest solar radiation levels in the UK, with Devon a close second.
According to Andrew Rowson, who is an assistant research fellow at Exeter University's Centre for Energy and the Environment, a solar farm producing 5 MW of energy will cover around 37 acres of land and is therefore easy to hide in the right landscape. At the moment solar arrays are believed to be less controversial than wind farms, the appearance of which can often provoke a well-organised protest campaign. It is easier to find sites for solar farms and they also require less maintenance while also generating a more constant source of electricity. Mr Rowson however believes that it is only a matter of time before protest groups focus their attention on solar as well as on wind.
"I think we'll see the tide change" he says. "Already, protest groups are getting pretty mobile and the goodwill towards PV applications on this scale will eventually run out. It's just a question of whether there are other limiting factors before then. The cost of grid connection is what will ultimately limit the possibilities."
Green energy is a fast-growing industry in the South West, currently employing around 10,000 people. Financially solar power is seen as a safe option because of the drop in price of Chinese panels, up to around 50% in some cases. This means that low-maintenance solar sites are still seen as attractive despite the government's cut in Feed-in Tariffs. At present Cornwall County Council is negotiating with Good Energy concerning a planned 224-acres solar farm at Week St Mary, between Launceston and Bude. This would be the largest solar farm in the UK producing around 30 MW of electricity. Elsewhere in the county, Cornwall is already home to twelve 5 MW sites that are either under construction or already operating.  Fifteen more have been agreed and a further fifteen are under consideration. There are dozens of smaller applications already in place all around the county.
"If you were going to build solar anywhere in mainland UK, you'd look at Cornwall" said Adrian Lea, planning delivery manager at Cornwall County Council. This is because the further south-west that applications are sited, the more lucrative they are. It is not surprising then that Devon also has a number of applications under consideration, including a 54-acre site at Bowhay Farm, near Shillingford Abbot, Exeter; a 37-acre application for Marley Thatch Farm in South Brent and another at Bommerton Farm, near Molland in North Devon. There are many others of a similar size being planned for various sites throughout the West Country.
"To make a living from farming, people are either getting a lot bigger, which brings its own difficulties, or farming part-time" says landowner Michael Isaac regarding Lumicity Ltd's 37-acre project at Horsacott Farm. "This is a way to give me the time and income to invest in farming properly."