Councillors Defer Decision on Cambridgeshire Solar Farm
Plans to build a 2.7MW solar energy farm in the market town of Whittlesey in Cambridgeshire have been deferred at the request of the developer, Lark Energy, a subsidiary of Larkfleet Homes.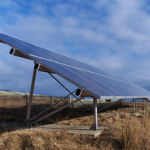 The solar farm at Reach Drove, Whittlesey is to be built on 21.5 acres of poor quality grassland. The south facing solar panels, spaced 6.5m apart and at 20-30 degrees, are designed to deliver approximately 3 megawatts of power and have the potential to provide enough energy for 650 homes. According to Fenland District Council, the company asked for a deferment after receiving late objections from Middle Level Commissioners.
A report to councillors by their officers has said that "it is considered that a countryside location is appropriate for this development and that on balance there would be no adverse effects on visual amenity, the landscape character, agricultural land and biodiversity.
But local residents living nearby have raised doubts over the amount of energy that will be produced and they object to the loss of agricultural land.
Councillors will discuss the future of the farm at a meeting in July.