Cost Still Putting US Homeowners Off Solar Despite a Booming Market
Despite a vulnerable economy, the market for solar panels is booming in the US, but not so much in the residential market, it seems.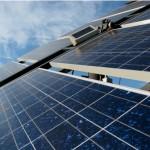 A recent report from the solar market research and analysis company Solarbuzz highlighted an expected rise in solar PV sales in the latter half of 2011, which should see sales double, thanks to lower module costs and incentives.
The 'United States PV Market Report' indicates that by 2015, the solar PV market in the US could very well grow to as high as 6.4 GW. Such growth would see the US account for 12% of the global solar PV market and would establish the US as the third-largest market in the world for solar PV, behind Germany and Italy.
However, whilst huge utility-scale solar projects are soaring, the state of the residential market isn't quite as buoyant.
The Solar Energy Industries Association has reported that installations of residential solar systems increased from 62 megawatts to 74 megawatts – which is enough to power 15,000 homes – between the first and fourth quarter of 2010. But when you take a closer look at residential share of the total solar market, the figures aren't quite so positive.
In 2009, 36% of all installed systems were on residential properties. But that figure dropped to 30% in 2010 and some industry experts say sales of solar PV in the residential market are likely to continue to drop.
According to MJ Shiao, a solar markets analyst with Greentech Media Research, growth in the residential market during the first quarter of 2010 to 2011 was around 14%, compared to a staggering 119% for non-residential sectors.
"The way the U.S. solar market is really headed is toward utility projects," said Mr Shiao.
"That's not to say that residential isn't growing. It's sort of plodding along," he added.
Cost remains the main factor stopping US homeowners from investing in solar PV panels for their roofs. Despite the cost of solar panels falling, solar systems are still expensive – somewhere in the region of $20,000 to $25,000 or more, depending on the system's size. The majority of families simply cannot afford the technology, regardless of the fact that these systems can end up paying for themselves in the long run with lower electricity bills.
Even with state and federal incentives, such as the federal renewable energy tax credit – which cuts the costs of a solar installation by 30% – for many homeowners installing solar roof panels will continue to remain out of reach.