Building Services Firm Launches Solar Scheme in the North East
Northern Bear, a building services firm in County Durham in the north east of England, is to launch a solar panel installation scheme, after having secured an initial £10 million investment.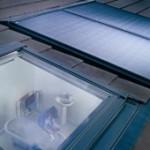 The company – due to announce its partnership with renewable energy investment fund Hazel Capital – says it will be the first scheme of its kind in the North East, an area which has very little solar presence. Using its four North East roofing businesses, Northern Bear will fit solar panels on domestic and commercial properties across the region.
"The potential in the solar power market is huge. There is very little solar presence in the North East and we are the first company to approach this market in such a way," said Northern Bear chief executive Graham Forrest.
"We have the fire power from the first tranche of investment to make substantial inroads and have access to at least a further £20m, and then possibly more," he added.
Northern Bear, which owns 13 companies in the building arena, believes the potential across the North East's commercial buildings and housing stock is huge, and the firm is close to securing a deal to install solar panels on one of the region's iconic buildings.
Hazel Capital invests exclusively in green energy schemes and has secured German contractor RGE Energy as its partner supplier with Northern Bear contracted as the installer of the roof-top systems.
The deal will see Hazel pay Northern Bear for the installation, and maintenance of the panels for 25 years, with Hazel benefiting from the feed-in-tariff (Fit) scheme.