Secret Millionaires Set Up Solar Panel Fund
Two entrepreneurs who met on the TV show The Secret Millionaire have joined forces to offer a rooftop solar panel scheme.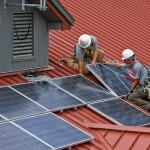 After striking up a friendship on the Channel 4 show, Paul Williams and Ben Way have established a company called Freetricity, which offers public and private organisations grants of up to £150,000 to fit solar PV panels.
The solar panels are available to homeowners and businesses across England and Wales, on a first-come, first-served basis. The scheme is the latest in a growing line of free solar initiatives designed to install solar panels at no upfront cost. Specialist firms like Homesun and SolarCentury have already implemented similar schemes.
Speaking to Business Green, Freetricity chief executive, Ben Way said he was "reasonably confident" the company could secure investment in excess of £30 million, following a deal with Octopus Investments, who are set to bring such a figure to the table.
The scheme is backed by developer LightSource Renewables and energy efficiency solutions company Anesco. According to Williams, the fund represents the biggest project of its kind in the UK.
"It will be especially attractive to those who are interested in reducing their carbon footprint but concerned about the cost of doing so," said Mr Way, who started his first company aged just 15, and went on to become one of the first dot com millionaires.
"We hope that this deal will allow them to see that solar is a genuinely viable alternative to traditional energy sources," he added.
While those taking part in the scheme will benefit from free electricity, Freetricity will be able to reap the benefits of the Government's lucrative feed-in tariff (Fit) scheme, which guarantees a minimum payment for every kilowatt hour of electricity  generated by a renewable electricity system over a 25-year duration.