Barclays to Give Farmers a Helping Hand to Fund Solar Projects
The business arm of Barclays Bank has shown its hand amid concerns over investment in large-scale renewable energy projects by launching a £100-million fund for UK farmers.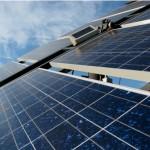 Barclays is hoping to provide support to more than a third of farmers in the UK who are keen to install renewable energy systems on their land. The fund is designed to make environmentally important projects and technologies, such as solar PV, wind farms, organic waste and hydro plants, affordable in the short-term.
Covering the costs of purchase and installation, the fund could enable farmers to generate annual returns of around £25,000 on average.
Managing the fund, Travers Clarke-Walker, of Barclays, said: "We want to signal very clearly to the market that we consider this to be a big future industry, a big opportunity for agricultural businesses and also a big opportunity for the renewables. This is a quickly emerging industry".
Barclays' move to help farmers follow in the footsteps of Glastonbury founder, Michael Eavis, who last year installed 1,116 solar panels on one of his sheds at Worthy Farm, is likely to surprise industry experts, many of whom have voiced their concerns over the UK Government's decision to reduce support for large-scale solar initiatives.
Speaking in June after the Government announced that it would limit the scope of feed-in tariffs for large-scale ventures, the Chairman of the Solar Trade Association, Howard Johns, said: "Crushing solar makes zero economic sense for UK plc because it will lose us major manufacturing opportunities, jobs and global competitiveness.
"It also risks locking us in to more expensive energy options in future. It is inexplicable that the Treasury can be allowed to damage energy and industrial policy by taking decisions without taking into account the bigger picture".
Meanwhile, the Chief Executive of the Renewable Energy Association, Gaynor Hartnell, stated: "The handling of this whole affair has been poor. Larger-scale PV has been demonised, when it is the most cost-effective approach".
It would appear that Barclays does not share the scepticism of others, notwithstanding the fact that Mr Clarke-Walker believes up to 90 per cent of funding will subsidise wind and solar projects.