UK's First Combined Solar and Wind Farm Gets Connected
The switch has been flicked on the UK's first combined solar and wind farm in Oxfordshire.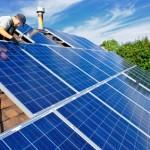 After being connected to the national grid last week, Westmill Farm in Watchfield is already putting almost 20,000 kilowatt hours per day of renewable electricity into the local grid.
An energy park featuring not one but two commercial scale renewable energy technologies operating side by side is unique for the UK. Comprising of a 5 MW solar farm, which covers 30 acres, it is home to 21, 620 photovoltaic panels. The solar PV panels are mounted on 68km of 3m high steel frames and cover the equivalent of eight football pitches. They are expected to generate around 4.7 gigawatts of electricity a year, equivalent to the average annual electricity consumption of 1,000 people.
The Westmill Solar Farm took an average of 20 men working for 8 weeks from beginning to end, to complete.  The project was commissioned alongside an existing five-turbine wind scheme.
Owned and built by Blue Energy, the £12 million solar farm was developed by Low Carbon Solar, a renewable energy developer based in Cirencester.
"We have worked around the clock to finish this unique solar project, before the government's deadline puts an end to projects of this scale." said Chris Dean, Blue Energy's managing director.
Blue Energy is set to shift its focus towards residential solar schemes, following the Government's decision to limit feed-in tariff (Fit) levels associated with large-scale solar projects from 1 August.
The Westmill Solar Co-operative will be launched to enable local people to buy shares in the solar farm. It is hoped that by the end of the year the solar farm will be owned by the community.