28% Drop in Solar PV Prices Helping Solar Become More Affordable
The UK solar industry has been dealt quite a blow recently, with proposals to cut solar subsidies drastically. However there is some good news for the technology because PV prices have dropped by 28%.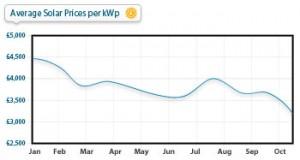 Despite recent changes to the feed-in tariff (FiT) scheme, Solar Guide is optimistic that the once booming market will be able to weather the storm, boosted, not least, by a reduction in the price of the technology.
According to the latest Solar Guide press release, solar PV prices have come down considerably over the last 12 months, making solar far more affordable than it has ever been before. The news should hopefully help to maintain faith in the renewable technology, despite the recent solar subsidy set back.
For homeowners looking to reduce their energy bills by investing in solar electricity, the average price per kWp of a solar PV system has dropped by 28%. According to figures compiled by Solar Guide, in December 2010 the average price consumers could expect to pay for a solar PV installation was £4,445.95 per kWp. In October 2011, that price dropped by 27.87%, to £3,206.96.*
With the cost of fossil fuels continuing to rise rapidly, investing in a solar PV system makes sense, not least because:
The cost of installing the technology has reduced by 28%.
The same sized system installed this time last year, compared to now, would be 39% more expensive.
You'll be able to enjoy cheap or free electricity.
Solar PV is good for the environment.
You can make money by generating your own electricity through the feed-in tariff.
David Holmes, founder of Solar Guide said: "Solar subsidies from the feed-in tariff have made investing in solar panels economically viable for so many people. While the Government's proposal to slash solar subsidies by more than 50% has hit the industry hard, the fact that we've seen solar PV prices dropping by as much as 28% should provide the industry with a much needed boost.
"Our figures really do speak for themselves. This time last year, installing the same sized system would cost you 39% more than it would if you were installing it now. So while fossil fuel costs are rising solar PV prices are falling. Which means solar is fast becoming more and more affordable. And that's good news, not just for energy consumers but for the economy and the planet, too. So it's a win-win situation all round."
*Figures based on 256,776 online quotations from January 2011 to November 2011. Data sampled at 28 November 2011.