Silicon prices falling, solar to become even cheaper
There's some good news for home owners contemplating installing solar PV panels. Silicon prices are falling which means installing a solar system is now cheaper than ever before.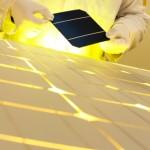 Silicon is a main ingredient in the manufacture of solar photovoltaic panels. Research carried out for the IHS Solar Polysilicon Price Index has revealed that the price of silicon worldwide dropped last month (October). According to the market research firm silicon prices are likely to either level out or increase ever so slightly between December and January. However, due to excessive stocks of solar PV materials worldwide it's highly likely that the cost to purchase silicon will stay low for the immediate future.
Silicon must be of a certain grade if it is to be utilised in the manufacture of solar panels. Whilst 9N is one of the purest grades of silicon, the lowest grade acceptable is 6N to 8N. October saw the cost to purchase this grade of silicon reduce by 7%.
Any decline in silicon prices is good news because it should lead to the production of cheaper solar panels and associated cost savings passed on to home owners.
In other news the International Energy Agency (IEA) has forecast the global solar PV industry to grown 26-fold. But if climate change forecasts the world over were actually met then it would lead to even faster growth according to IEA's regarded flagship publication World Energy Outlook 2012. It's predicting that solar PV capacity globally could jump to 846 terrawatt hours in 2035 – a massive increase from 32 terrawatt hours in 2010.
The IEA also expects solar PV costs to continue to fall, but at lower rates until the oversupply situation is rectified.