Wagner Solar UK to Open Thermal Division
The UK branch of Wagner & Co Solar Technology is to establish a solar thermal space heating division in the UK.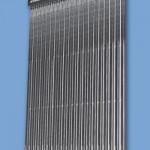 Wagner Solar UK has built its brand based on a commitment to product quality and safe installation. Their solar photovoltaic (PV) division has built up a strong reputation for its specifying service, which involves their sales personnel to use the company's bespoke software to calculate the right product and system configuration; a service which installers find particularly beneficial when it comes to choosing the right roof mounting solution.
Wagner Solar UK's thermal division is to be headed by Dan Oliver, who, prior to the appointment, has been a member of the solar PV sales team. Commenting on the company's establishment of their solar thermal division, he said:
"Solar heating is still an emerging industry in the UK, so we intend to apply our knowledge and help installers with the pre-installation calculations, so they can concentrate on the most important thing, which is getting the installations right."