Unlucky for Some: Solar Appeal Set for Friday the 13th
The ongoing battle between the solar industry and the Government looks set to be settled on one of the most ominous days of the Gregorian calendar – Friday the 13th.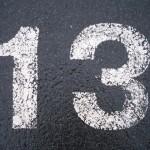 If you're superstitious, the day is often connected with tragedy and misfortune and now it seems the most superstitious of days will signal the final showdown for solar subsidies in the UK.
On the 13 January the Court of Appeal is scheduled to hear the Government's appeal following the ruling last month which ended with a judge concluding that the Department of Energy and Climate Change's proposals to slash solar subsidies before the consultation period had ended was unlawful.
If their application for permission to appeal is granted, then the appeal will be heard on the same day, ending weeks and weeks of confusion, misery and more and more uncertainty that has thus far blighted the UK solar PV industry.
At the moment, solar installers are somewhat stuck in limbo when it comes to which feed-in tariff (Fit) rate their customers will be entitled to, since the Government announced plans at the end of October to cut tariff rates by more than half, taking them from their current of 43.3p per kWh down to 21p per kWh.
The legal action, instigated after DECC officially announced their plans to make the FiT changes, is being lead by Friends of the Earth, alongside Solarcentury and Homesun.