Summer sunshine a boost for solar panels
The UK has been enjoying the sun in more ways than one. It's not just the record temperatures that have been setting records; the recent summer heatwave has also contributed to a record amount of solar power generation.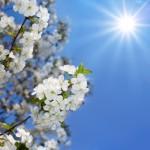 According to Government and industry figures, the UK has seen solar power generation reach record figures, bolstered by weeks of glorious sunshine which has seen a surge in solar panel installations.
With more than 450,000 solar panel systems installed across the country – which have a 2.7GW capacity – a sunny day will generate in the region of 2% of the UK's electricty demand over a 24 hour period. Given that solar photovoltaic panels generate electricity during peak daylight hours, during 10am to 5pm it is equivalent to around 6% of electricity demand.
Thanks to the recent heatwave, the Solar Trade Association has calculated that for the first time ever solar power will have overtaken wind, producing a record amount of electricity.
Commenting on the summer sunshine boost for solar panels, the Solar Trade Association's PV specialist Ray Nobel said:
"The UK generated around 16,000MWh on Tuesday compared to 9,900MWh of wind. The total consumption of electricity on this relatively calm day was 766,987MWh."
But it's not only the UK which has enjoyed blazing summer weather in July. Take Germany for example. A country which is light years ahead of the UK (with around 1.3 million installations, it has the most solar capacity compared to any other country in the world) Germany managed to generate almost 40% of its daytime electricity demand on 7th July.
Solar in Germany may in fact reach grid parity by 2017. That's the point when solar electricity will be generating at wholesale prices. Currently Germany can generate solar power for 10 eurocents per kilowatt-hour.