Subsidy Cuts Could Rejuvenate Solar Thermal Sales
While the solar PV industry is still reeling from plans to slash solar subsidies, a leading heating company believes the news could be a good boost for solar thermal technology.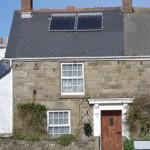 According to Worcester, Bosch the announcement confirming the Government's proposals to cut the feed-in tariff (Fit) rates could help sales of solar water heating systems.
Speaking about the cuts, the company's Head of External and Governmental Affairs, Neil Schofield pointed to the changes having "a positive effect on solar thermal sales which remain a very viable and cost-effective option for householders to reduce their energy bills."
It was announced last week that the rate of the feed-in tariff paid to households for generating their own renewable electricity is to drop considerably, from the current rate of 43.3p per kilowatt hour, to just 21p. The changes will apply to systems installed from 12 December 2011.
Whilst the country has been basking in something of a solar PV boom, sales of solar thermal panels have dropped, according to figures released by the Solar Trade Association. Members have apparently reported a reduction of 75% or more in their solar thermal sales in 2010. The feed-in tariff aside, the reduction isn't helped by the cloud of uncertainty and confusion that hangs over the Renewable Heat Incentive (RHI) scheme.
Mr Schofield also praised the Government's proposals to introduce energy efficiency eligibility criteria from April next year, which will see properties having to achieve an Energy Performance Certificate (EPC) rating of at least Level C to qualify for the tariff.
"What's more the decision to link the tariff to the energy performance rating of a property will ensure that public money is not being wasted on properties which are inadequately insulated and you can't argue with that," he added.