Solar powered 'bonsai tree' charger for smartphones
We've already heard of solar powered mobile phone charging stations like the 'Strawberry Tree' project in Belgrade, which enables members of the public to charge their phones away from home. Now there's the solar powered bonsai tree that's both an eye catching ornament and a cool gadget charger.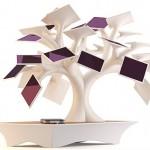 Designed by Frenchman Vivien Muller, who describes his creation as "part sculpture, part appliance" the Electree+ features 27 miniature amorphous-silicon square solar panels, each 3.7 inches wide and will cost in the region of £280. Hidden at the base of the solar bonsai tree is a 14,000mAh battery which stores the harnessed solar energy. At full capacity the device is capable of charging a tablet, such as an iPad, twice and an iPhone at least nine times.
Any smartphone or electronic gadget can be charged via the device as long as it utilises a USB connection. When the battery is completely drained the Electree+ requires a good 36 hours of exposure to daylight to charge back up. However, according to the product's creators the device will have enough energy to charge a smartphone after just four hours of daylight exposure.
As reported by Digital Spy, the Electree+ project – which is keen to promote the benefits of renewable energy to reduce our reliance on expensive fossil fuels – has been four years in the making. Given that we're a nation of gadget lovers, consumed by electronics and an obsession for the latest energy hungry technology, there certainly would appear to be a market for innovative solar powered products that utilise renewable energy.