Solar Panels For Lutterworth Council
Lutterworth Town Council is looking into installing solar panels onto the roof of its Coventry Road building, in a move designed to reduce energy costs and help reduce its carbon footprint.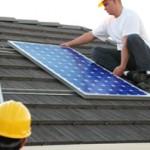 After the town council carried out an energy audit last year, interest in the solar panel scheme has grown, and now several local companies have been approached to provide quotes for installing the panels.
All of the companies approached to submit quotes will be meeting with councillors in due course, to provide an outline of both installation costs and projected energy savings from the scheme.
"A firm decision has not been made yet as councillors still need to weigh up the issues," said Lutterworth town clerk Hannah Perkins.
Lutterworth Town Council is hoping to get a grant to meet at least some if not all of the financial cost for installing the solar panels.