Solar Given Cold Shoulder in 2012 Budget
Yesterday's budget brought no pain relief for the UK's solar industry, with the Chancellor George Osborne showing support for the gas industry instead.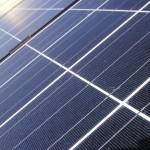 In a somewhat controversial move, solar seems to have been shunned in favour of gas, with aims to revitalise the countries flat-lining economy by proposing 6.7GW of new gas plant facility. In doing so, the Government is essentially supporting the gas industry over renewable energy and sparking what could be a "dash for gas", boosting fossil fuel companies.
According to Osborne, gas is not only cheap but it has much less carbon than coal and will be the largest single source of our electricity in the coming years. Commenting on the proposals, he said: "The energy secretary will set out our new gas generation strategy in the autumn to secure investment. I also want to that ensure we extract the greatest possible amount of oil and gas from our reserves in the North Sea."
The solar industry has reacted with disappointment to even more disheartening news in yesterday's budget that Enhanced Capital Allowances won't apply to anyone in receipt of the feed-in tariff (FiTs) or the Renewable Heat Incentive (RHI). In addition, Capital Allowances for solar PV expenditure will also be reduced to just 8%, down from the standard rate of 18%. It's a move the Treasury believes it justified, given that FiTs run for 25 years. However, as we speak the Department of Energy and Climate Change (DECC) is consulting on proposals to lower the lifetime of the scheme to 20 years.
Given that solar was the largest renewable energy market last year, with a turnover estimated to be in the region of $92 billion, the solar industry understandably feels that they have been given the cold shoulder, so to speak.
Commenting on the outcome of the 2012 budget, Paul Barwell, the chief executive of the Solar Trade Association, said that Enhanced Capital Allowances are extremely valuable in terms of helping projects get over any initial investment hurdle.
"We would argue there is a case for extending ECAs to solar PV, as looking forward FITs alone are unlikely to give businesses the rates of return they need to invest.
"We also don't agree that ECAs should end for solar thermal. The Renewable Heat Incentive was calculated on the basis that ECAs were available. Their removal places more pressure on DECC to provide more support for solar thermal - or risk alienating important investors.
Mr Barwell said that he failed to understand why solar has been subjected to such poor treatment, given its popularity and that the renewable energy technology will reach grid parity soon. He added that solar is "demonstrably delivering exceptional price drops, but the UK industry needs stability and confidence."