Solar FiT rate to fall slightly in November
The publication of the official solar photovoltaic installation figures by Ofgem for May to July have shed light on the solar feed-in tariff (FiT) rates that will come in to force from November.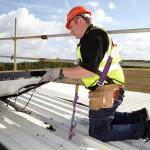 From 1 May to 31 July domestic solar PV installations up to 10kW stood at 163.769MW of deployed capacity, which means the tariff level for systems falling into the 0-10kW will be subject to a 3.5% digression. Therefore, from 1 November the FiT rate for residential installations up to 4kW will be cut slightly, from 16p/kWh to 15.44p/kWh. For systems falling between 4kW-10kW the FiT tariff will pay out 13.99p/kWh.
Small commercial installs (10-50kW) also face an impending reduction, having slightly breached the 50MW threshold by 7.09MW. Currently the tariff rate stands at 13.5p but from November will be 13.03p.
The only tariff banding to remain the same until February at least, large-scale commercial solar installations were way under the stipulated 50MW digression point with 13.94MW. The Department of Energy and Climate Change determines how much FiT levels will be cut depending on installation levels for each banding.
The new FiT rates will apply for eligible solar PV installations from 1 November 2012 to 31 January 2013.