Drop in solar FiT rates from today
From today (1 November) new feed-in tariff (FiT) rates come into force as part of a newly introduced mechanism which sees a fall in solar subsidies kick in every three months determined by installation levels for each banding.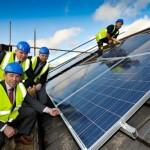 As first revealed back in August, FiT rates for domestic solar PV installations up to 4kW are to endure a slight cut, taking the financial payout to 15.44p/kWh, down from 16p/kWh. The tariff levels have been subjected to a 3.5% digression following residential solar installations up to 10kW reaching 163.796MW of deployed capacity from 1 May to 31 July.
On the surface it may seem that the latest round of solar cuts is unwelcome, however every cloud has a silver lining. Thanks to a recent increase in electricity prices sending energy bills sky high it means we can still take something positive from the latest round of cuts; that being that compared to this time last month the return on investment is now higher.
Commenting on the recent hikes in energy prices and the solar cuts, Dr. Chris Jardine, technical director at Joju Solar pointed to the benefits of solar panels and how, in light of escalating energy prices, solar PV is the cheapest way of supplying electricity.
"We've seen a 3.5% cut in feed-in-tariffs on residential and small commercial buildings. But at the same time, we're seeing electricity prices rise by as much as 10% in October which more than outweighs the cut in feed-in-tariffs and makes the return on investment from solar projects higher than it was this time last month.
"There are two main benefits of owning a solar system. One comes from the feed-in-tariff. But the bigger benefit is not buying electricity from one of the big suppliers at rates that are just going up and up."
While npower customers endured an average 9% rise in their energy bills last month, British Gas energy prices will increase by 6% from 16 November and EDF Energy customers will see their energy bills climb by a massive 10.8% from 7 December.
Today marks the first round of FiT cuts and the new rate will stand until 31st January 2013. Systems between 4kW to 10kW will receive 13.99p/kWh.