Solar Energy Eclipses Gigawatt Milestone
The generation of solar energy in Britain exceeded the 1,000-MW mark on Wednesday last week. This impressive achievement has been seen as a victory for the domestic solar industry, which has boomed in recent years following the introduction of Feed-In Tariffs (FITs) in April 2010.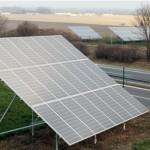 The previous Labour government set the rate of 43.3p/kWh for energy sold to the National Grid that had been generated by domestic solar PV, but the current administration has sought to reduce the rate to 21p/kWh, with further price drops expected twice yearly from April this year.
News of domestic solar passing the 1,000-MW milestone will likely renew calls for the British Government to relax its position on FITs, prior to which the generation of solar energy in the UK amounted to just 26MW.
Chief Executive of the Renewable Energy Association, Gaynor Hartnell, was among the first to note the importance of domestic solar energy. Ms Hartnell said: "Solar really deserves recognition in the Government's renewable energy strategy now.
"With the price of solar photovoltaic panels coming down like it is, there is no reason for it not to fill a prominent part in UK energy for 2020 and beyond. It needs re-examining in light of this milestone".
The UK Government is currently locked in a legal battle to implement the 21p/kWh rate with immediate effect - a move that has been ruled unlawful by two courts. Government lawyers have now appealed to the Supreme Court in a bid to push through the change ahead of April.
Despite reducing the incentive for households to install solar panels by halving the amount payable under FITs, the British Government appears confident that some four million homes in England and Wales will avail of the technology by 2020.
The figures need to be put in context. Government officials hope that solar energy will reach 22GW by the end of the decade, yet FITs is scheduled for at least seventeen price drops between now and 2020. It is difficult to see why more households would suddenly become desperate to install solar panels in these circumstances. It is worth noting that Germany, which has operated a relatively generous feed-in tariff system for many years, already generates some 25GW of solar energy.