Solar boss urges sector to focus on the future
The chief of the British Photovoltaic Association (BPVA) has urged the industry to 'pull out all the stops' and 'focus on the future'. The 'dark days' of the solar FiTS fiasco are over he says.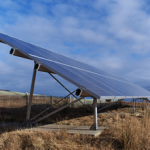 In a really positive statement of belief in the future of the British PV industry, BPVA chief Reza Shaybani says that solar companies need to stop worrying about what it should receive from the government and demonstrate instead what it can do for the country. He believes it is now time to move on from the spat with the government over Feed-in Tariffs (FiTS) that helped to depress the market at the beginning of the year.
"We've moved beyond the dark days of the FiT fiasco" Mr Shaybani says. "We need to focus on what the future will be. So far, everyone's been speaking about what we want from Government and the taxpayers to support the industry. Now we're saying, 'OK, what are we doing as an industry for the nation, for the economy, for the Government?' We can't have an industry in a failing economy. We all have to pull our weight. Solar PV is very capable of doing that."
The BPVA has recently launched a new UK solar PV charter which lists five aspirations it believes the industry should set itself for the future. So far five companies have signed up to the charter, which promotes the need for investment, the need to help families in the UK by lowering energy bills and providing jobs and providing long-term clean renewable energy. The BPVA also believes the sector has to share expertise with other countries around the world thus helping to encourage foreign trade and market expansion as well as cutting the UK's carbon emissions.
Key aims are to encourage billions of pounds of investment in UK solar power in order to build a sustainable industry, develop a new solar economy, deploy solar PV in homes, businesses and community buildings and provide research and development and training facilities across the country. Not only will such investment revitalise communities but it will also provide affordable domestic power thereby reducing reliance on fossil fuels.
In this way the UK solar PV industry can deliver significant benefits and help the country to prosper in the years ahead.