Blue Energy helps African solar sector
A giant 155MW solar farm at Nzema in Ghana will be one of the biggest solar farms in the world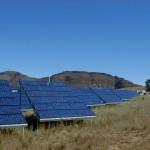 The project could help to set off a renewable energy revolution in West Africa. Only three solar PV plants in operation in the world today are larger than the Blue Energy project which will be the first such installation to go ahead under Ghana's 2011 Renewable Energy Act. The country's government estimates that the project will increase its generating capacity by 6% thereby meeting 20% of its target of 10% renewables by 2020. The Act also provides for the setting up of a new system of Feed-in Tariffs.
The Nzema solar farm will be operational by 2015 and there are further plans for other renewable energy plants elsewhere in West Africa. A number of these projects are already in the pipeline.
Installation of over 630,000 solar panels will begin at the end of 2013 with a view to energy generation commencing early in 2014. Sections of the farm will come online as they completed and the project should reach full capacity by October 2015. The government is expecting the creation of some 500 jobs as a direct result of the farm's construction with another 200 permanent jobs when it starts generating electricity. Sub-contracting should create another 2100 jobs in the local community.
"Ghana's forward-thinking strategy puts it in a strong position to lead the renewable energy revolution in sub-Saharan Africa" said Chris Dean, CEO of Blue Energy. "Nzema is a case study in how governments can unlock the huge potential for solar energy in Africa. We are delighted that it will make a strong contribution to the national economy, provide much needed generating capacity and help develop the skills of the future.
Blue Energy has now secured all the consents it needs to start construction and Ghana's Energy Commission and Public Utilities Regulatory Commission have awarded it a generation licence and Feed-in Tariff. Consultations are ongoing with a number of international finance companies regarding investment and debt financing. Financial closure is expected in the first half of 2013.