Samsung SDI ESS Energy Solar Battery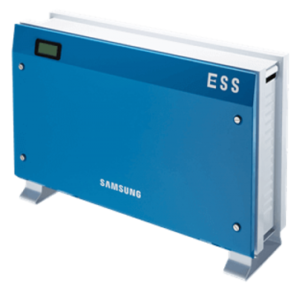 The Samsung SDI battery storage solution enables you to capture and store solar energy for later use, e.g. at night. The more energy you can produce and store, the less you need to rely on purchasing energy from the National Grid.
If you'd like to speak to a solar installer in your area who can provide tailored advice and a free installation quote for a solar battery, complete our enquiry form now and we'll put you in touch with up to 3 MCS certified (or equivalent) companies today.
Samsung SDI 3.6kWh All-in-One Battery Storage
Samsung SDI is a giant in the technology industry and has been operating since 1970, but their move into renewable energy is more recent. Today they are one the leaders in Lithium-ion energy storage including solutions for the residential, utility and commercial sectors. The Samsung SDI All-in-One energy solution can be directly connected to your PV system. As an all-in-one unit it will save space.
---
 
Get Free Solar Battery Quotes:        Get quotes and compare prices.
 
---
It requires the Samsung Battery BS-ELPT362-00002 but includes a dual MPPT inverter, a battery inverter and two lithium-ion batteries. It features an inbuilt remote monitoring system that enables you to detect system errors in advance and monitor energy storage levels in real time.
Samsung SDI ESS Energy Solar Battery
Battery Size (kWh):
3.6
Dimensions (B x W x Hmm):
1000 x 267 x 680
Weight (kg):
95
Usable Energy Capacity (kWh):
3.24
PV to Grid Efficiency:
95%
Warranty:
5 years (product), 10 years (performance)
Anticipated Number of Cycles:
6000
Approximate Price (ex VAT):
£5,000 – £5,500
Depth of Discharge (DoD):
90%
Why consider Samsung SDI ESS?
All-in-one Solution: The Samsung SDI includes 3 functions in one compact unit: PV inverter, battery inverter and lithium-ion battery. This is a great space saving solution and makes for really simple installation.
Web & Mobile Monitoring: The intuitive web monitoring system enables you not only to track the energy generated by your system from any location but also alerts you to errors in advance.
Long lasting: The Lithium-ion technology provides a long life of at least 6000 cycles which far outweighs batteries that rely on Lead-Acid batteries.
Interested in Samsung SDI energy storage for your home?
Whether it's a Samsung solar battery you're interested in or you've another manufacturer in mind the best way to save money on the installation is to compare quotes. You can complete our quick and simple enquiry form today and we'll find you free quotes from up to 3 accredited solar installers in your area who can advise you and provide you with their most competitive quote for the job.
---
 
Get Free Solar Battery Quotes:        Get quotes and compare prices.
 
---