Scilly Isles Community Leads The Way In Solar Power
St Agnes is a small 366-acre island community on the windswept Scilly Isles, southwest of Cornwall. It's probably one of the most remote settlements in the UK, but that hasn't stopped it being particularly innovative as far as renewable energy is concerned.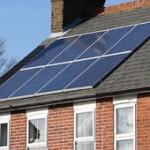 No less than 47% of homes in St Agnes is now equipped with solar power, 31% with solar PV panels on the roof and the remaining 16% with solar thermal. This places St Agnes well above other communities on the islands, most of which have reached only 1% to 2% similarly equipped at best. However, this is not entirely surprising considering that the Scilly Isles enjoy the highest levels of sunshine in the UK.
Andrew Tanner of Penzance-based solar company Plug Into The Sun managed to install the equipment in spite of the somewhat challenging nature of many of the sites involved. The conditions in many places included wind speeds of up to 100 mph and a salt-laden atmosphere. Despite this, one of the installations, sited on the roof of a school, is now producing more power than any comparable installation in the country. Usually, the average rated power produced by a system in the UK amounts to around 850 kW hours. That increases to 1000 kW hours in Cornwall, but the St Martin's school installation even beats that at 1200 kW hours, which is 50% more than the UK average.
Andrew Tanner says that this demonstrates the high potential for solar power on the islands. His company has also just installed panels at another school, Five Island School on St Mary's, which incorporates an innovative new panel design fitted directly into the roof. The panels consist of black SOLON modules which blend into the slate tiles and the company estimates that they will save over 5 tonnes of carbon per year, producing enough power to operate up to 100 computers. SOLON is one of the largest solar PV manufacturers in Europe, with subsidiaries in Germany and Italy. It also has an office in the US.
"Public buildings of a certain size have to demonstrate improvements in carbon emissions. It is important that our school leads the way for future generations and sets an example to protect the Island's environment from rising sea levels" said Caroline King, Bursar and Estate Manager of Five Islands School. "It is part of a sustainable vision which has been extended to all our school sites. It underpins what is taught across all the key stages to students."