Saudi Arabia goes solar
The world's largest oil exporter, Saudi Arabia, has set itself the target of installing 41GW of solar capacity within the next two decades, almost as much energy as it currently pumps out of the ground in the form of oil.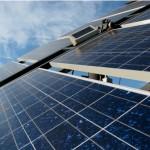 Electricity demand in the country is growing by 8% per year and so the Saudi Arabian government is seeking $109 billion of investment to build a solar industry capable of generating at least one third of the country's electricity demand from solar energy by 2032. According to Bloomberg Finance the world's total investment for solar energy last year was $136 billion.
Mecca's mayor, Osama bin Fadl Aidarous Albar, is hoping to find developers to build facilities for the production of around 385 GW-hours of power per year including 100MW of solar power.
"No city in Saudi Arabia owns power-generation assets, and we want to be first city that owns power plants and hopefully the first in the Muslim world" said Albar. "During the Build-Own-Transfer contract duration, generators will be selling electricity to Saudi Electricity Co. (SECO), and after the contract ends, the city will own the power plants and it will sell electricity just like any other independent producer in the country."
Interested parties so far include the Saudi Bin Laden Group and ACWA Power International. One of the most important judging criteria is the length of the contractual period, which should be as short as possible, with operation being conducted by the successful developer until it recoups its investment. The desert environment will present particular challenges for the operator including the cleaning of sand from solar panels and the stabilisation of land prior to construction. Financing for the project is being part-managed by Terra Nex Financial Engineering which is already well established in the Middle East and is currently managing a $2 billion 400MW solar PV project for the Sultanate of Oman including module and frame manufacturing, technology transfer and training.
According to the European Photovoltaic Industry Association, Saudi Arabia receives between 4.5 and 7 kW of solar radiation per square metre per day. A huge amount compared with Greece's 1.7 kW.
The winning bid will be announced in January next year with the aim of commencing work in June 2014 and a completion date of 2018.