PV can become a mainstream energy source says EPIA
The European Photovoltaic Industry Association believes that with the right policy conditions based around support from governments, solar PV could become the primary energy source in the future. In a recently published report it says that 20 to 25 GW could be installed annually up to 2016 with further growth outside Europe.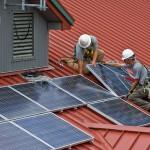 The report, entitled Global Market Outlook For Photovoltaics Up To 2016, observes that solar power is now a fundamental part of the European energy mix, PV currently contributing up to 2 percent of the continent's energy demand with four percent of peak demand. Italy is one of the countries that the report praises highly, identifying it as 'highly progressive' having reached 5 percent of electricity demand obtainable from photovoltaics with over 10 percent of peak demand.
During 2011 photovoltaics became the third most important renewable energy source with regard to installed capacity with hydro and wind following close behind. The report claims this is the sign of a watershed moment in PV's development with PV for the first time being the number one electricity source in Europe in terms of added installed capacity. It further claims that PV is in line to stay within the three top energy technologies on the European mainland.
"The evolution of the electricity mix in Europe will depend on a series of parameters" the report continues. "The Spanish PV market has shown in recent years that PV can quickly become a direct competitor to incumbent players, and notably gas. PV is especially entering in direct competition with other technologies during mid-day peak hours, one of the moments when flexible power plants run."
The crucial factor is government support. There must be a more measured response to market developments as the market matures. PV must move from Feed-in Tariff (FiTS) into an environment in which it competes more directly with other electricity sources. Government's must also work to remove bureaucratic barriers, encourage innovation and ensure grid access. Although FiTS will not last forever, tariffs will have to support PV for the time being until such time that the technology can close the competitiveness gap.
Nevertheless the report also warns that without sufficient government support, the PV industry could collapse although growth outside Europe could help to support the European market. A slowing Europe would create a void that would be filled by the Chinese, Japanese, US and Indian markets. However, with the right policy initiatives Europe could see a PV capacity of 240.15 GW of which the UK would supply 11 GW.