Property Industry Voices Disproval of Fit Reductions
IMPORTANT notice about this article: Please note that the Feed-in Tariff (FiT) scheme closed to new applications on March 31st 2019.
Members of the British Property Federation (BPF) have voiced their opposition of the Government's decision to reduce the payment level of the feed-in tariff (Fit) for large-scale installations.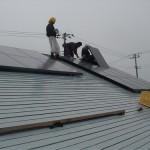 The organisation, which represents the interests of all those involved in property ownership and investment, has said that solar panels can not only reduce CO2 emissions from the UK's homes, offices and shops, but can also help landlords invest in retrofits from the money generated by the renewable energy technology.
From 1 August, feed-in tariff (Fit) payments for solar installations of more than 50kW will be lowered, in a move designed to open up more of the funding pot for domestic installations. But the BPF is urging the Government to treat these cases, which can come under the 50kW-plus category, differently from solar farms.
The industry group believes that large scale renewable energy projects can benefit from economies of scale and put the UK on track when it comes to delivering on renewable energy targets in a cost effective manner.
"The Government's decision has undermined industry confidence in future and current incentive schemes, which will have a knock-on effect on precisely the sort of investment which the Government wants to see," said Ian Fletcher, director of policy at the BPF.