Pioneering flight sees solar plane touch down in Morocco
After successfully completing the first leg of a journey from Switzerland to Spain, Solar Impulse has safely touched down in South Africa, signalling the end of its pioneering transcontinental flight.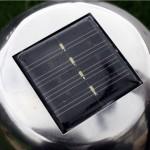 Launched in 2003, the Solar Impulse project aims to highlight the power of solar energy. The second leg of the journey took 19 hours before the solar plane – which is the same size as an Airbus A340 – landed safely in Rabat.
The energy provided by the sun has proved to be capable of keeping the aircraft in the air, with 11,600 monocrystalline silicon solar cells used to power four electric engines. The flight was a rehearsal for a 2014 round-the-world flight and follows a record-breaking flight back in 2010 which saw the Solar Impulse make history after becoming the first manned solar aircraft to complete a 26 hour flight without a break.
At the helm of the plane was Bertrand Piccard, the son of undersea explorer Jacques Piccard. He took over from co-pilot Andre Borschbergy who piloted the aircraft during its first leg. The second leg of the journey was delayed slightly, while the team waited for weather conditions in Madrid to improve.
Made of carbon fibre, Solar Impulse features solar panels fitted to its wings and weighs around the same weight as an average family car.